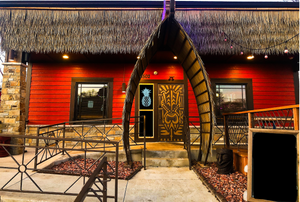 Daily Cuisine Specials
Wing Wednesday: Half off an order of wings with the purchase of a Tiki Cocktail!
Friday Fish Fry: Three pieces of cod deep fried or baked (with blackened seasoning or lemon pepper), crack fries, slaw, corn bread, tartar sauce and a lemon.
100% Gluten Free Kitchen
Join Us Today For Dine-in or Takeout
We're proud to have a certified gluten free kitchen at Wauwatiki. Our staff works hard to create and provide the best gf cuisine for your enjoyment!
Order Takeout today
Order online here to start your takeout experience.
At WauwaTiki we strive to bring our vision to life as a Caribbean and Hawaiian inspired restaurant to Wauwatosa. Our kitchen works hard to create amazing, gluten free hand-crafted cuisine. While your food is being created in our scratch kitchen, our bartenders are shaking up some island style cocktails to make you feel like you are relaxing at the beach. All WauwaTiki's cocktails are built from fresh citrus, house made syrups, and premium spirits then poured over classic Hawaiian style pellet ice.
Reservations
Please note Fridays and Saturdays are walk in only. We may not be able to seat groups larger than 6 people. If you are planning to join us with a large group (7 or more) please email wauwatikisbar@gmail.com to request accommodations. Weekend parties of 7 or more are less likely to be accommodated since space is very limited.
During weekdays larger party reservations are available. Groups of 7 or more people will have to book at least a week in advance and we cannot take parties larger than 12.
For more reservation info click here.
Pet Friendly Patio
Wauwatiki is happy to provide a pet friendly patio for all our friendly four legged friends. To help keep our patio clean of broken glass, we only offer beverages in plastic cups. Thank you for understanding and helping to keep man's best friends safe.
Join The Crew
Wauwatiki is always looking to grow our amazing staff. If you feel that you could be a great fit, let us know. Ask for a manager for more details or email a resume to wauwatikisbar@gmail.com.
Quiet Hours
To accommodate our neighbors and a Wauwatosa ordinance, our patio closes at 11pm. Thank you for helping keep Wauwatiki a great part of the East Tosa community.
Wauwatiki Annual
Golf Outing
Once a year the Wauwatiki crew puts on a golf outing fundraiser to help raise money for The Snappers. Sign up now for this years golf outing event.